COMPLETELY NATURAL.
NON-TOXIC.

Harmless product.
It can be ingested or be in prolonged contact with the skin, without producing any toxic effect.
Applications:
Pharmaceutical industry: toothpaste, vitamins, syrup antibiotics, lotions, etc.
Cosmetic industry: lipsticks, facial powders, eye shadow, nail polish, etc.
Food industry: Sausages, Hamburgers, Salted foods, Alcoholic drinks (such as Campari), non alcoholic drinks, Jellies, Jams, Ice cream, Yoghurt, Cherries, powdered soup, etc. Generally, it can be used in any product that should have a red or strawberry red tone.
PROPERTIES
- Higher heat and chemical oxidation resistance than synthetic dyes.
- Good light stability.
- High color power, which exceeds any other type.
- Does not show toxicity.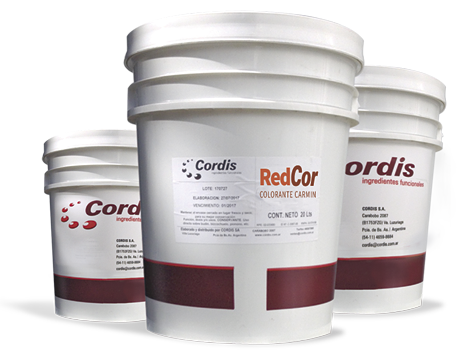 REDCOR
is presented in plastic drums of 5, 10 and 20 lt.